In spite of a large social media presence, a lot of organizations depend on email to provide support to their customers. Not all issues can be solved over social media, email provides a better solution. It gives a more personal touch and helps are longish replies. Hence, it becomes extremely important to master the art of handling support emails. Here are 5 best practices that worked for us (they can work for you too):
Remember that a person's name is to that person the sweetest and most important sound in any language. Always use your customer's name. Try to imagine a conversation and carry a smile on your face. Wish her a good day or ask how she is doing. Don't miss an opportunity to wish your customer on Christmas, New Year, or on Thanksgiving. Give them a friendly hint that you are always there to help. See what one of user had to say:
Proper formatting is far more important than most of us think. Make sure your email is properly formatted so that your customers can read it easily. And try to convey things in a short and simple, point-wise manner. Remember, your customers are reading an email, not an essay!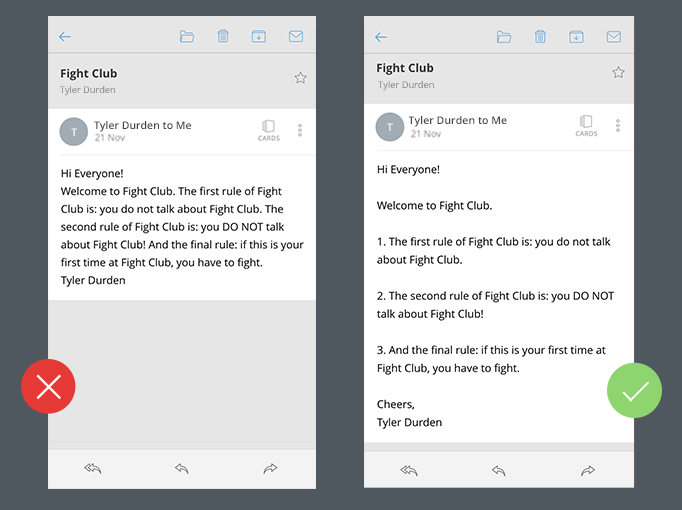 Use screenshots and links to help better
A picture is worth a thousand words. Make use of screenshots, guide them to relevant articles/blogs/videos. This will help them understand your point clearly.
If a user wants to know how to take a screenshot on his iPhone 6, it'll be easy for him to figure out if directed to a YouTube video rather than just using words – "hold the 'Home' button and then press the 'Sleep/Wake' button" might not help everyone.
The faster you respond, the better it is for you and your customer. No one is going to wait for your solution to come for days or weeks, they'll just move on to the 'other' product. What we found from our experience is, even during downtimes, users were happy to wait just because we were listening and responding to them instantly. Just be there to listen to your customers, they'll love you for life. Here are some responses we received for our wicked fast support:
When a new feature is released or an old bug is fixed, always drop a personal note to the users who had requested the feature or were affected by a bug. This makes them feel special and builds trust.
Incorporate these practices and see how they enhance your support overall.